Seniors: Choose the sessions that fit your style and personality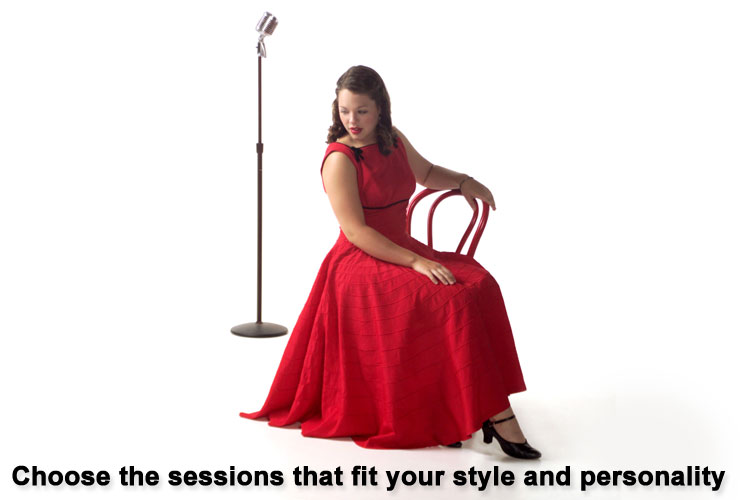 At Bultman Studios, you get to select exactly the kinds of photography you and your parents like. With each session you get a different style or look in your favorite two outfits. You'll see between 12 and 20 poses for each session.
For example, if you pick three sessions, you will get 36-60 different pose choices in six outfits. It's the best way to get what you want without ending up with a bunch of photos you don't like.
Session Styles Available:

Studio $39.
Studio portraits can be taken in any number of styles. Traditional, Contemporary or totally-out-of-control creative: you get to pick!
---

Outdoors $59.
Simple, elegant looks in our exclusive outdoor studio, just a few steps out the door.
---
Your Stuff $49.
If you'd like some of your portraits with a musical instrument, sports outfit and/or gear, a pet, hobby or other prop, this session is for you.
---

The Destination 1111 - $49.
Exclusive at Bultman Studios, images captured ina Turn-of-the-Century Factory Building. It's stairways, windows and loading docks offer settings unlike anyone else.
---

Downtown $59.
Go to the back alleys and sides streets of downtown Grand Rapids for some unique looks you won't find elsewhere. Gritty images with art and architecture.
---
ADD-ON SESSIONS FOR EVEN MORE VARIETY:

Beach $99
Do you spend most of your summer camped out at the beach? Join Scott at Holland or Grand Haven as he captures you amongst the sand and the surf.
---

Digital Masterpiece $99.
Bring a picture from a magazine, CD cover, Web site or one of your own ideas. We'll work our digital magic to create a unique look just for you! Includes photography and design time but no photographs. (Must be ordered with at least one other session.)
---

Friends Mini-Session $29.
Bring your siblings or best friend or friends (up to four) for some fun group shots. NOTE: this mini-session comes with 6 different poses in one outfit, and must be ordered with at least two other sessions.
---

On Location $129.
Got a favorite spot you'd like your portraits taken? Scott will travel up to 20 miles one way from the studio to photograph you in your favorite location.
---