Seniors: How much do senior portraits cost?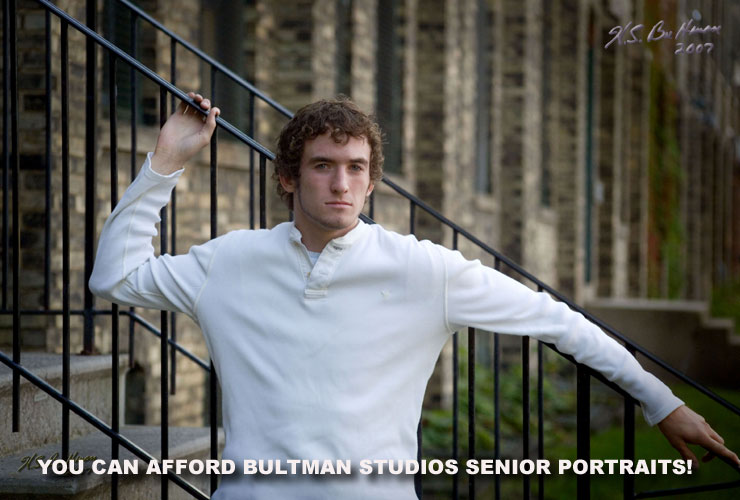 What you pay for your portraits is important. But what you get for what you pay is even more important. That's what value is, and why you always get more than your money's worth at Bultman Studios.
Here are some key questions to ask when considering your senior portrait studio:
What will my session be like?
You session should be fun. You should feel comfortable and relaxed. You should never be rushed. And you should have a great time.
At Bultman Studios, you get all this and more. Scott Bultman has been making seniors look and feel awesome for over thirty years. Behind the camera, he's one of the best.
How will I look in my pictures?
You already know you get more variety than anywhere else at Bultman Studios. And that you pictures will show more style, personality and fun. Scott's years of experience can make the difference between a mere picture and a true portrait.
What if I don't like my portraits?
You are never stuck with pictures you don't like at Bultman Studios. If you're not happy with them for any reason, we'll remake them, no hassles ever, no fine print. This 100% guarantee is peace of mind for both you and your parents.
Can you trust your once-in-a-lifetime portrait to a once-in-a-while (or hardly ever) photographer?
Anyone with a camera can point it at you and take your picture. But there's a big difference between a snapshot and a professional portrait. And year after year, Bultman Studios continues to grow because they provide creativity, value, service and professionalism at the highest level in West Michigan. A quick glance at the photos on this Web site and in the catalog you received in the mail makes it easy to compare - because there is no comparison!
Getting exactly the portraits you want is a big deal to us.
What you ultimately select for your finished images is entirely dependent on you. We recognize that everyone has different portrait needs based on personal desires, family, friends and budget.
Some studios try to make you buy one of their packages to fit your needs. We think it should be the other way around.
At Bultman Studios, if you want one photo for yourself, a different one for Grandma and some wallets for your friends, you can get just that. If you need lots of images for yourself and to give away, that's what you can get.
Minimum orders? Many studios have them, frankly because the quality of their work doesn't support the prices they charge. At Bultman Studios, you get what you want. Period.
Price increases? This is the fourth year in a row we've held our prices. Can any other studio make that claim?
BULTMAN STUDIOS HAS PORTRAITS TO FIT EVERY BUDGET.
So flexible is our menu that you can actually choose from five different ways to get your portraits. No other area studio offers this many options, which include:
Ala Carte
Perfect if you need just one portrait. Ala Carte gift portraits range from $34 to $99 for 5x7s and $51 to $109 for 8x10s, depending on the finish and quantity you need. Ala Carte wall portraits start at just $295 for 11x14s to $970 for 30x40 mural size.
Create-A-Package
If you need a portrait for your wall of one pose plus some smaller ones of different poses, you can save 10% off the Ala Carte menu. Any combination of sizes and poses.
Samples of Basic One-Pose Packages
Great for those who want most of their portraits from a single pose. Eight different package options from $129 to $857 that save $24 to as much as $529 off the Ala Carte menu.
Some examples of One-Pose Packages:
Samples of All-Inclusive Packages
As the name implies, you get it all: a large wall portrait or multi-image wall collage, numerous gift portraits for family and a generous supply of wallets for your friends. Eight different All-Inclusive Package options range from $895 to $1749 allow you to choose from up to seven different poses and even include a frame for your wall portrait.
Some examples of All-Inclusive Packages:
Samples of Wallet Packages
Everybody wants wallets; but not everybody needs the same amount. You can choose from eight different wallet packages from $179 to $344 that include as many as six different poses. Five of the wallet packages even include a free ColorTint (sepia or color tone) or black and white conversion.
Some examples of Wallet Packages:
The choice you make right now is very important.
Ten years from now, you probably won't remember your photographer's name, or what day of the week your session was on, or even how much you paid for your photographs. But you will still have your photographs to look at, as a daily reminder of some of the best days of your life.
The choice you make for your photographer today will determine whether you smile or cringe when you look at your portraits for the rest of your life. Make the right choice. Choose Bultman Studios.