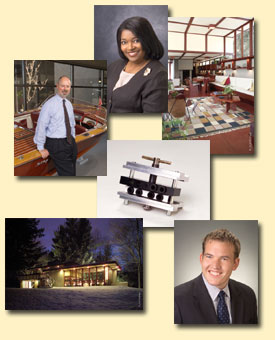 Business Photography
Finally, a Business Portrait That is Painless, Hassle-free & Delivered in 30 Minutes
You're busy. Your whole week is already scheduled and the photo for the newspaper article is dead last on your list of priorities. Your secretary has tried to get you to the photographer, but there are more important issues to deal with and more important fires to put out!
After All, Business Comes First, Right?
Besides, the portrait process takes too long, the photos never look like you, and then there's all the trips back and forth to look at the proofs. It's just a plain nuisance! Right? Well, It's All Changed. Now you can visit Bultman Studios and take care of all of it in under 30 minutes. And if you think about it, isn't your portrait all about making a good first impression? Maybe this is more important than you first thought. Maybe it really is worth the effort.
We'll Make It Easy Because It Is Very Important!
First we'll send you a checklist about "How to Look Best for Your Publicity Photo". Plus, if you mention this letter, we'll send you a special report on "40 Reasons Why a Good Portrait Improves Your Business."
Then, when Scott photographs you, he'll help you decide on the image you wish to convey with this photography. He'll talk to you about the purpose of the photography and about the layout of the ad, making sure he uses proper posturing to present the right fit to the ad message. If you have an art director, encourage him to make suggestions to Scott on specific needs. He can post instructions to Scott via the web at .
At this point you're done! Scott and his staff will run with it now!
Scott will then complete the work on computer, enhance and retouch your image as instructed and e-mail the final image with embedded ID straight to your printer. No need for any trips running back and forth with the proofs. No need for you to find the right time to fit in the decision making process after the photography is completed. No final trip to the studio and then on to the printer. It's all complete within 30 minutes of you stepping into the studio.
And in the next year or so, you won't need to search for where those extra copies you ordered (but have since misplaced) for future use. Just a simple call to Bultman Studios and we will e-mail the image to your printer for a nominal fee. (If your printer is un-able to work with the image file, prints are available as well.)
When was the last time you had the time to get photographed and make all the extra trips back and forth to the portrait studio looking at the proofs, placing the order and finally picking up the finished prints? Now, one stop takes care of it all! And, we're conveniently (centrally) located just 5 blocks north of 28th St. on Division. That's just 5-10 minutes south from downtown Grand Rapids, Michigan.
Call us at 616-241-4626 10am-5:30pm or e-mail us with your specific needs at BultmanStudios@global.net. Scott can handle early appointments as well as daily appointments.